General Group Ride Info
Everyone's invited: all ages, all skill levels, non-FORC and FORC members alike.
We usually split up into 2-3 groups based on skill level.
An experienced rider will be there to take out the beginner group.
Afterwards we like to hang out in the parking lot, shelter, or local establishment for camaraderie and post ride nutrition.
You're always welcome to show up and ride your own ride and just meet up with us afterwards.
Benefits of Group Rides
Improve your skills & fitness by riding with a faster/more skilled riders.
Build the riding community and help others develop their skills.
Learn a trail system and the preferred route.
Meet people who share your passion for dirt and potential riding buddies.
Enjoy the security of riding with a group if you donít feel comfortable riding on your own.
Learn that you are probably not the only one struggling with a certain skill or trail feature and get tips for conquering it.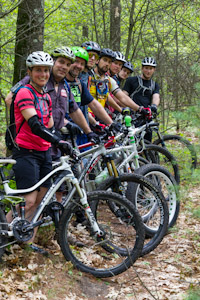 Time & Locations
We try to mix up the location of group rides to keep them fresh and reach as many people as possible. Check out the QC MTB Trail Overview page for locations, directions, and more information about local trails. We typically schedule group rides around 5:30pm on weekdays since that seems to work best for most people. One group ride per week is common, weather allowing, during the prime riding season (May to Oct.).
Get Notified
Subscribing to the Let's Ride Forum will send you an email notification whenever a group ride is posted. Click here to subscribe to group rides!. A forum account is required to use this feature.
We also usually post club group rides as Facebook events. If you're not following us on Facebook check us out here QCFORC.