The green trail passes through a deep ravine with large Glulam bridge.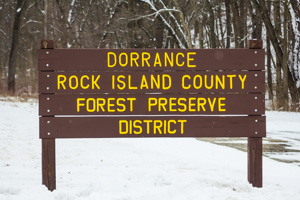 Want to get Involved?
There will be plenty of opportunities for volunteer help on this project and the more help we get the faster the new trails will be ready for use.
Click here to view the latest trail work day announcements.
Click here to subscribe to the Dorrance forum
(
forum account required
) to receive email updates about upcoming work days and the latest project developments.
Summary
Dorrance Forest Preserve is located right in the middle of Port Byron, IL making it a prime choice for recreation and specifically trails. This 80 acre park features moderate to steep terrain and is covered by large hardwood trees typical of the Mississippi River valley. The park is located just a short ride from downtown Port Byron making it a convenient recreation destination for locals or those just visiting.
Trail Map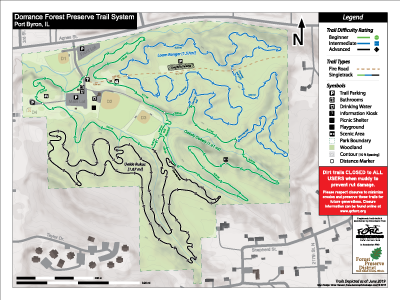 Click to enlarge
Planned Trails
Three main loops of trail will be constructed at Dorrance. A green beginner loop, blue intermediate loop, and black advanced skills loop. Each trail will be around 1 mile in length.
Check out our current plan for the Dorrance Trails. We gave this short presentation to the Village of Port Byron that outlines what we are doing at the park: Dorrance Trails Presentation
Trail Information
There is currently one short out-and-back hiking trail/road along the northernmost ridge paralleling Agnes Street.

FORC is working with RICFPD to develop new trails at Dorrance. The 1.6 mile green loop was completed in spring 2017 with two more loops coming soon. Total singletrack trail mileage when completed is expected to be around 4 miles. Layout will be done as a stacked loop system, like many other local trails, with a main loop that is wider and less technical and a couple more technical/difficult loops branching off. Permitted trail uses are to include mountain biking and other human powered activities.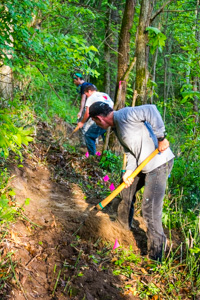 FORC volunteers building trail at Dorrance.
Park Hours
Trails open daily 1/2 hour before sunrise and close 1/2 hour after sunset.
Summer Hours 6am-10pm
Winter Hours 6am-Sunset
Trail Closures
Trails at Dorrance are closed to all users when wet and muddy to prevent damage. Trail closures are controlled by Dorrance park staff but are relayed to us and will be displayed on the trail status in the upper left hand corner of this page. Trails are typically closed for 24 hours or more after 0.20" or greater rainfall and during freeze thaw cycles as necessary in winter months.
Directions
Just North of Port Byron, IL on IL-84 or 3.5 miles North of I-80 on IL-84 (take the first/last exit entering/exiting Illinois and turn right on IL-84).


More Info
Dorrance Forest Preserve is managed by the Rock Island County Forest Preserve District. On site features include bathrooms, softball/baseball diamonds, soccer fields, playground, small picnic shelter, and close proximity to the Great River Trail.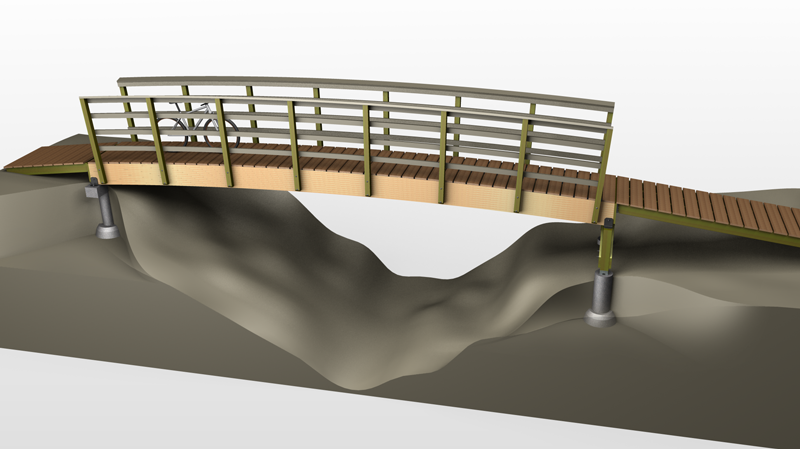 This 33' bridge will be constructed over winter 2016 to complete the 101 loop.
August 2017 - First section of blue loop completed.
June 2017 - Construction of first section of blue loop begins.
May 2017 - Grand opening of the green loop.
April 2017 - Completion of the Glulam bridge project.
December 2016 - Layout of the blue trail.
November 2016 - The green trail is completed with the exception of a 33' bridge crossing a deeply incised stream.
April 2016 - Construction of green trail begins.
March 2016 - Layout of green trail.
In The News
Below is a collection of local news articles about the development of the Dorrance trails.
Project Partners
Big thanks to our partners who have provided resources and funding to see this project become a reality!