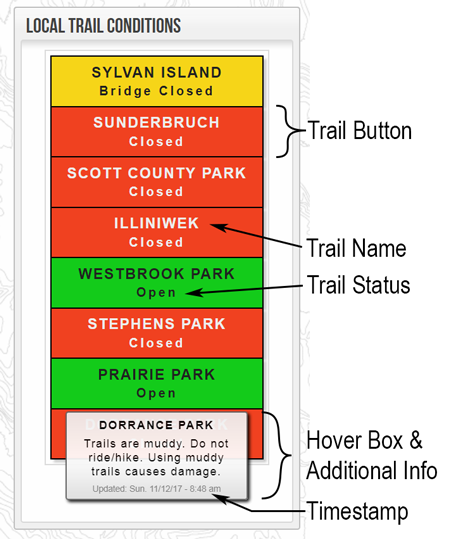 What do the different condition/status labels mean?
Open
Trails are open to all permitted users.
Closed
Trails are closed to all users.
Caution
Trails are open but hazardous conditions exist. Hover over the trail button to see a popup description which may list more information about the specific hazard.
Freeze/Thaw
Trails are open IF they are FROZEN. This status is reserved for when trails experience freeze/thaw cycling and conditions are too variable to display accurately. See this article for more info about the freeze/thaw cycle and trails. Typically riding in the early morning before trails have a chance to thaw is the best option here. User discretion is advised. If you're leaving an imprint, the trails are too soft to be using.
Call
If we aren't able to make contact with land managers who control trail closures to get a definitive answer on trail status this condition will be displayed so users may attempt to make contact themselves. Very rarely needed.
Other
Other statuses may be displayed but will be self explanatory. See pop up message for details.
A trail's status hasn't been updated in a while. Are the conditions still current?
If the status timestamp is old, it usually means conditions haven't changed and an update isn't necessary. However, be wary of stale conditions if significant rain has fallen within the last few hours; especially overnight and early morning.
Will the trails be open/closed in X days or on X weekend?
Sorry we aren't psychics and we definitely can't predict the weather long range. Trail statuses are updated as soon as possible after trail stewards and/or land managers can check on-site conditions. Check the local forecast for any expected precipitation if travelling from out of town. The National Weather Service forecasts seem to be the most accurate and show an hourly breakdown with precipitation estimates.
Why doesn't the on-site trail closure sign match the trail app status?
The website trail status overrides conditions posted on physical signs with the exception of Scott County Park. It's much easier/quicker to update the web status than changing on-site signs which may take a few hours to become current.
Why is a trail closed even though it hasn't rained?
Trail closures can happen for a number of reasons besides rain/mud. Some parks close trails due to hunting seasons, animal migrations, hazardous conditions, controlled burns, and special events.
How long will it take for the trails to re-open?
After moderate rain, most local trails will re-open within 24-48 hours during the warmer part of the year. Heavier rains (0.5" or more) and multiple rain events may cause closure for 3-4 days or more. During the spring thaw, closures may last many weeks since drying happens very slowly when temps drop below 50F.
How much rain does it take to close a trail?
Each trail handles rain differently due to varying soil and terrain compositions. The time of year and weather conditions (windy?, sunny?, humid?, warm?) have an even greater effect on rain tolerance. Sandy/rocky trails will take more rain (Sylvan Island, Westbrook, & Geneseo Prairie Park) whereas trails with a lot of clay and deep ravines (Sunderbruch, Scott County Park, Illiniwek, Stephens, & Dorrance) will require much less and more time to dry out. During summer months, a dry trail can usually take 0.2" of rain before it gets too muddy. This can fall to as little as 0.1" or less during cooler months. Keep in mind these numbers are offered as guidelines only and due to the complexities of trail drying they will likely be wrong a large portion of the time.
When will the trails re-open from the spring thaw?
Each trail varies, but most will start to re-open towards the latter half of April given normal winter conditions. More snowfall, early rains, and/or unusually cold temps can delay this another few weeks. Sylvan Island is the exception given its rocky soil which can be rideable as early as mid March.
QC Trail status now on Alexa!
Nathan Tackett put together a free Alexa app that will tell you the current trail status as displayed on the FORC website. Get it here:
QC FORC Trail Status Alexa App