Berm bridge on the Jubilee trail.
Summary
Sunderbruch Park is the crown jewel of off-road riding in Davenport, Iowa. Comprised of 99% singletrack trails, a full gamut of difficulty levels (green to black diamond) are incorporated into the seven mile trail system.
Trail Information
Sunderbruchís GREEN trails boast 2 miles of the most beautiful wooded scenery found in Davenport and test riders with a few small, beginner log crossings, one ladder bridge and one corduroy feature Our BLUE trails offer riders moderate changes in elevation, some rooted and off-camber terrain, a variety of corduroy sections and log-crossings, and large wooden berms and other wooden structures. BLACK Sunderbruch trails greet riders with fast descents and challenging climbs, creek crossings, some narrow winding trails, roots, skinnies, drops, and a plethora of logs. Sunderbruch has something to meet every riderís interest. You will not go home disappointed!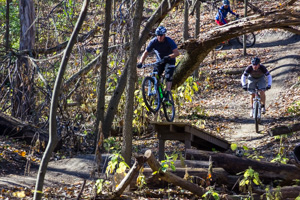 Typical feature on the Jump Line trail at Sunderbruch.
Trail List
Kid's Loop (Beginner ) A short loop between the treeline and Blackhawk Creek near the parking lot. Geared towards younger riders with minimal climbing and easy to navigate trail. Enter/exit near the bike path bridge.
Kickapoo Up (Intermediate ) A quick climb from the parking lot to the top of the hill featuring a couple of boardwalks.

Uphill use only!

Comlara (Beginner ) A gentle rolling loop with a few roots and a fun downhill run towards the end.
Farmdale (Beginner ) A longer beginner friendly loop featuring more roots, a few small log skinnies, and a little more challenge.
L.T. (Expert ) Widely regarded as one of the most physically and technically challenging trails in the QC. Stream crossings, drops, high speed rooty downhill runs, and a couple leg burning climbs.
Jubilee (Intermediate ) Fast and flowy section of trail with some climbing, drops, multiple bridges, and two large wooden berms.
Sugarbottom (Intermediate ) High speed downhill run with some fun rollers and drops along the way and a moderate climb on the way out.
Watermelon Pass (Expert ) A short bypass section with a couple of switchbacks, a bridge crossing a ravine, and the infamous watermelon step up feature after the climb out.
Rock Cut (Intermediate ) Starts out tight and twisty, crosses a few log piles, and then dumps into a massively fast downhill run. Bring your climbing legs to get you out of here.
Palos (Expert ) Lots of fun features like G-outs, log skinnies, corduroys, and drops.
Kettle Moraine (Intermediate ) Swooping rooty downhill and another moderate climb out from the tip of the finger.
Jump Line (Advanced ) An assortment of large drops, jumps, and other challenging trail features.

One-way only (downhill) and bike only.

Blue Mound (Expert ) Lots of challenging features such as roots, drops, skinnies, rock gardens, and sections of technical climbing.
Kickapoo Down (Intermediate ) Balls to the wall downhill with a drop and chunky root section towards the end.

Trail is signed for one way travel (downhill) and for bikes only.
There are also approximately 4 1/2 miles of separate equestrian trails for our hoofed friends.
Trail Map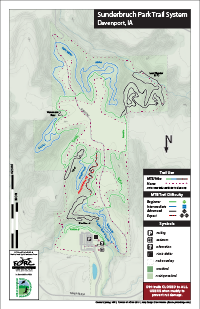 Park Hours
Sunderbruch trails are open 24 hours a day which make them a great place to night ride. Be aware the main park gates are locked by the city around sunset. Make sure you park in the lot just off of Telegraph road and outside this main gate if you plan on using the park after sunset. People have been locked in before!
Trail Closures
The dirt trails at the park are closed to all users when wet and muddy to prevent damage. Trails also close during winter and spring freeze thaw cycles when the soil is extremely sensitive to rutting and soil displacement. Check the trail status before you head out to the park in the upper left corner of this page.
Directions
From I-280 Locust Street exit: Exit I-280 and head East into Davenport. Turn right (South) on Wisconsin. When Wisconsin tees at the stop sign, turn left (West) onto Telegraph Road. The park is roughly 1/4 mile further on the right side.
From I-280 West River Drive exit: Exit I-280 at the West River Drive exit, head East into Davenport, turn left (North) on Utah (this is the first road once you exit I-280). At the stop sign, turn right (West) on Telegraph Road. Continue on Telegraph through one stop sign and the park will be on the right side of the road 1/4 mile further.
From downtown Davenport: Head West on 4th Street, Davenport. This road eventually becomes Telegraph Road at the Waverly Road 4-way stop. Continue on for approx. 1.6 miles and the park will be on the left-hand side of the road.
Other Informaiton
Also available at the park are toilets, a picnic shelter with fireplace, and a paved bike path. There is no on site water so be sure to bring your own.
Check out what others have to say about the Sunderbruch Trails over on MTBR

Observation deck on the Jubilee trail.