Boardwalk on the Tarmac trail.
Summary
The Scott County Park trail system offers the largest amount of singletrack at one location in the QC area. A full loop will be near 11 miles in length. The trails offer a variety of difficulty level from beginner to advanced and explore the diverse terrain and natural areas of the park. Trail character varies from open and flowy to extremely tight and twisty (bring the 26er!) with some short climbs and descents thrown into the mix. Be sure to try the many, optional, technical features along the way to add an extra challenge.
Trail Map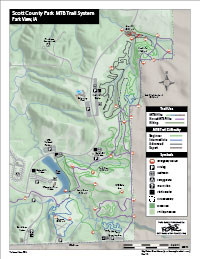 Click to enlarge.
Trail Information
Park View (Beginner 3.0 mi) Meandering paths through deep woods, open prairie and pine forest. With a small creek crossing thrown in for fun.
Long Grove (Beginner 1.76 mi) Open rolling wooded terrain, tall grass prairie segments, and "tunnels" through dense thicket. A 20 foot arched bridge takes you over Glynn's Creek.
ScoCoPa (Beginner 1.46 mi) Intermediate trail with tight, sharp turns and a fast downhill. Small roots, several small jumps and log skinnys lead to a challenging climb out at the end.
Tarmac (Intermediate 0.95mi) A couple nice climbs, long boardwalks, and a rewarding switchbacking descent through a large meadow overlooking Pride Lake.
Jumbo (Intermediate 0.48mi) Twisty and flowy with a few moderate climbs. A section of log rollovers and skinny's keep it interesting. An optional small drop brings you back to the main trail.
Bad Neighbourhood (Intermediate 0.18mi) Fun twists and turns lead to a steep 'pop-up' section that takes you out of the ravine.
Cannon Loop (Expert 1.84 mi) Short punchy climbs, narrow and twisty, and a few optional log ride features. This one will test both your bike handling skills and your lung capacity.
Area 51 (Advanced 0.61 mi) Many short and extremely steep climbs/descents through a stream bed, wooden ladder bridges, and numerous slow speed technical features. Bring your A game and a set of grippy tires.
In addition to the singletrack trail system, there are also 5-6 miles of mowed grassy doubletrack trail that follow the perimeter of the park. These trails are open to equestrians, hiking, biking, and cross country skiing in the winter. There are also a few miles of hiking only trails located in the interior of the park. Check out the park overview map for locations of these trails.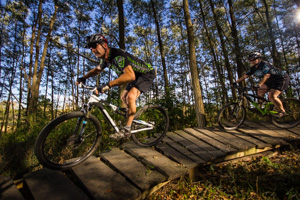 Boardwalk on the Tarmac loop.
Park Hours
Trails are open from sunrise to sunset. Night riding is not allowed unless by special permit.
Trail Closures
The dirt trails at the park are closed to all users when wet and muddy to prevent damage. Trails also close during winter and spring freeze thaw cycles when the soil is extremely sensitive to rutting and soil displacement. Check the trail status before you head out to the park in the upper left corner of this page. Trail conditions are also available by calling Scott County Park at: (563) 328-3282
Directions
From the QC Area:
Take HW-61 North to Park View Exit (#129) Look for the Scott County Park road signs.
Turn Right on 267th St. and go 0.8 mi.
Turn Left on Veterans Way/Scott Park Rd and go .25 mi
Turn Right on 270th St and go 0.9 mi
Turn Left into Park Entrance and go 0.4 mi (the first right turn)
Turn Right and go 0.3 mi to the Pride Lake Trailhead.
Don't park on the grass! An overflow lot is available across the road.
More Info
Scott County Park is also home to a variety of amenities for those less interested in biking such as a golf course, multiple picnic shelters with tables, grills and/or fireplaces, five unique camping areas throughout the park with modern restrooms and showers, several cabins available for rent, a recently renovated Olympic-size heated swimming pool and aquatic center, a baseball field, several playgrounds, a radio-controlled airplane site, and hike-only and equestrian-only nature trails. Winter activities at Scott County Park include cross-country skiing and snow shoeing.

More info about the park itself can be found at Scott County's website: Scott County Park