Boardwalk on the Tarmac trail.
Summary
The Scott County Park trail system offers the largest amount of singletrack at one location in the QC area. A full loop will be near 11 miles in total length. The trails offer a variety of difficulty level from beginner to advanced and explore the diverse terrain and natural areas of the park. Trail character varies from open and flowy to extremely tight and twisty (bring the 26er) with some short climbs and descents thrown into the mix. Be sure to try the many, optional, technical features along the way to add an extra challenge.
Trail Map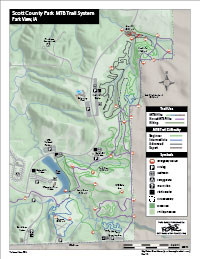 Click to enlarge.
Trail Information
Park View (Beginner 3.0 mi)
Long Grove (Beginner 1.76 mi)
ScoCoPa (Beginner 1.46 mi)
Tarmac (Intermediate 0.95 mi) A quick climb followed by a long boardwalk descent then a long climb to the top of the hill for a rewarding switchbacking descent through a large meadow with great views of Pride Lake.
Jumbo (Intermediate 0.48mi)
Bad Neighbourhood (Intermediate 0.18mi)
Cannon Loop (Expert 1.84 mi)
Area 51 (Advanced 0.61 mi)
Park Hours
Trails are open from sunrise to sunset. Night riding is not allowed.
Trail Closures
The dirt trails at the park are closed to all users when wet and muddy to prevent damage. Trails also close during winter and spring freeze thaw cycles when the soil is extremely sensitive to rutting and soil displacement. Check the trail status before you head out to the park in the upper left corner of this page.
Directions
From the QC Area: Take HW61 North to Park View Exit (#129) Look for the Scott County Park road signs. Turn Right on 267th St. and go 0.8 mi. Turn Left on Veterans Way/Scott Park Rd and go .25 mi Turn Right on 270th St and go 0.9 mi Turn Left into Park Entrance and go 0.4 mi Turn Right and go 0.3 mi to Pride Lake Trailhead.
Trail Photos
More Info
More info about the park itself can be found at Scott County's website: Scott Count Park