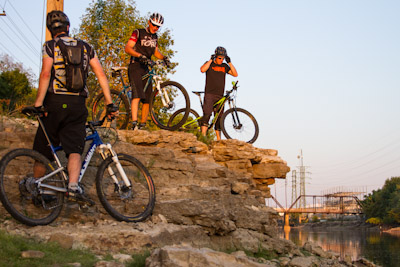 Want to help fix the bridge and regain access to Sylvan Island?
The City of Moline begins their 2-year goal-planning session on
Monday, June 17, 2013
, and some of what gets funded in the future evolves from goals sessions. It is important that city leaders receive input from the community about topics important to its citizens. That being said, we are asking you reach out to the City Council and express your thoughts about the importance of Sylvan Island access being restored. They need to know that it is important to more than just the few people they have heard from about the issue.
What can you do to help? Write a letter!
Moline residents should contact their alderperson along with the alderperson at large whereas non-residents should contact the Alderperson at Large Stephanie Acri. Contact information can be found here:
http://www.moline.il.us/index.aspx?NID=469
Some things to consider while writing your letter:
A detailed investigation of the current bridge is in the works. Know that the City of Moline has approved and appropriated funds in the current fiscal year for a structural analysis of the bridge to be completed. This is only a first step. We know that the bridge will at least need repairs which will cost money. The worst case scenario is that the bridge is determined to be unsalvageable and may be cost-prohibitive to save. Either way, we should appeal to the Council to keep this in mind and take initial steps to set up a fund that can be built upon dependent on what the structural assessment reveals.


Describe your use of the island. How and what do you enjoy about Sylvan Island? Mountain biking? Hiking? Running? Fishing? The list is a long one with so much to do at the park.


Sylvan Island is convenient. Mountain bikers, hikers, runners and fishermen flock to Sylvan Island year round because it is convenient. The islands central location makes it easy for people to take advantage of its facilities after work or when driving to the outskirts of town is not practical.


Did you spend money in Moline while visiting Sylvan Island? - Explain whether your visit to the island also had a positive impact upon the community such as whether you purchased fuel and/or snacks at a gas station, dined at a local restaurant, checked out the local brew pub scene, shopped at a local bike shop, etc. Downtown Moline is minutes away and many take advantage of this for food and drinks after visiting the island.


Volunteerism? Describe what you (and/or your group if you are associated with a group) have done to help care for the island (example: FORC maintains the trails which includes picking up litter, clearing fallen trees from the trails, etc.).


Don't forget about FORC! Feel free to include Friend of Off-Road Cycling's (and/or other entities) involvement with the island:




Friends of Off-Road Cycling (FORC) has created and managed a trail network on the island that supports tourism and also helps attract a younger more progressive workforce to our community. Young people are looking to live where they have recreational and cultural opportunities. In 2009, Sylvan Island was rated by Dirtrag Magazine as a Top Ten Urban Mountain Biking destination.


FORC offers educational opportunities for riders by hosting Mountain Biking 101 classes and group mountain bike rides targeted toward novice riders – many of which are held at Sylvan Island because of its close proximity to the heart of the "cities" and variety of technical trail features.


FORC hosts the Sylvan Island Stampede mountain bike race has made a mark on the local and regional mountain biking scene and attracts hundreds of racers to Moline each Spring. This translates to several thousand dollars brought to the community for the one-day event each year. This year, FORC hosted its 9th Annual Sylvan Island Stampede with 320 racers representing 4 states participating. Over the course of nine years, the Sylvan Island Stampede has brought nearly $20,000 to the area.


The Taming of the Sough has attracted adventure racers to the river front for the past eight years with one of the three legs of the event being a mountain bike race on Sylvan Island. While not truly a FORC event, FORC volunteers marshal and set up the mountain biking section for the Taming of the Slough. It is estimated that the Taming of the Slough has brought 2,000 racers to Moline over the last 8 years.
Want to know more or get involved?
The most current information regarding progress on the Sylvan Bridge can be found at the
Sylvan Island Dreamers Facebook Page.
You may also make contact through the following e-mail address:
SylvanIslandDreamers@gmail.com