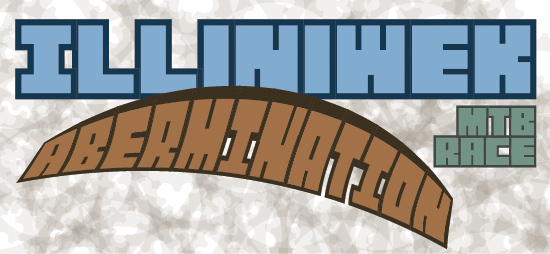 SUNDAY April 19th 2015
Illiniwek Forest Preserve - Hampton, IL
---
A huge THANK YOU to all the racers, volunteers, and sponsors who made this event possible! Race conditions were excellent and the weather couldn't have been better. There were 188 racers in attendance this year. Lets see if we can break 200 n 2016!
---

Due to the overwhelming success and positive feedback from last years event, FORC will once again be hosting the Illiniwek Abermination!

Registration:
Online registration has closed. Day of race registration is $35. On race day, registration opens at 7:00 am and closes 30 minutes before each race begins. Online registration closes Friday April 17th at 4:00 PM CST.

Race Course:
The course consists of a 4.7 mile loop of pristine, wooded singletrack on the Mississippi River bluffs at Illiniwek Forest Preserve in Hampton, IL. These trails are jam packed with flowing corners, large berms, and ripping descents that are sure to please riders of all skill levels! There are multiple sections of doubletrack per lap to make passing easier. The race course will be laid out and available for pre-riding the day before the event. FORC has been working on building a new trail section with three large wooden berms which, absent any major delays, will be included in this year's race course. Click here for more information about these structures.





Directions:
The park is located just North of Hampton, IL on IL-84 or 2.2 miles west of I-80 on IL-84 (take the first/last exit entering/exiting Illinois). Trailhead, Sign-up, and Start/Finish area will be located in the large grass field across from the campground/river side of the park. The main race areas should be easily visible from IL-84.


Parking:
Racer and spectator parking will be located in the grass field to the west of the main road leading to the trailhead. Signs will be posted along the highway to direct traffic.

Swag:
We're working on it!

Kids Race
A kids race will be held around 12:30. The course will be a short loop of nontechnical doubletrack trail and grass field near the trailhead area. All kids 9 and under are encouraged to participate. There are no restrictions on bike type. Registration is required for insurance purposes but is free.

Weather:
This event is dependent on trail conditions and may require rescheduling if we get a lot of rain before the race. The rain date for this event is Sunday June 14th with the same time schedule. As the event date approaches we will post weather updates and announce any delays or cancellations by 6AM on the day of the event. The trails at Illiniwek handle rain very well and dry quickly so rain events late in the week may not be a problem.

Volunteers:
It takes a small army of people working behind the scenes to make sure this event runs smoothly. We will be posting details about volunteer opportunities closer to the event date. If you would like to help out, post up in the A-berm - Call for Volunteers thread on the forums or stop by the day of the event to sign up.

On Site Camping
Illiniwek has a large campground featuring primitive tent and modern sites with water/electric hookups and a shower house. Come on Saturday to preride the course, spend the night, and don't worry about getting up early for the drive. There may be a group of FORCers doing the same.

Food?
Our food vendor for the event had to cancel due to a family emergency. We are trying to get someone else lined up in the meantime but bring your own food or make other arrangements just in case. Unfortunately it is probably to short notice to get another vendor lined up.


Questions?
If you have any questions feel free to contact us by either posting in the Racing Forum or sending us a message.




---
Race Timetable and Information
| | | | | | |
| --- | --- | --- | --- | --- | --- |
| Racing Class | Start Time | Distance | Awards | Payouts | Age Divisions |
| Novice (Cat 3) ♂ | ♀ | 9:00 am | 9:02 am | 9 mi | Top 3 in age div.: Medals | None | 19 & under, 20-29, 30-39, 40-49, 50+ |
| Juniors ♂ | ♀ | 9:04 am | 5 mi | Medals | None | 10-14, 15-18 |
| Kids Race* | 12:00 pm | 0.25 mi | T.B.D. | None | 9 and under |
| Sport (Cat 2) ♂ | ♀ | 10:45 am | 10:50 am | 14 mi | Top 3 in age div.: Medals | Medals | 19 & under, 20-29, 30-39, 40-49, 50+ |
| Expert (Cat 1) ♂ | 1:00 pm | 23.5 mi | Top 5 overall | Cash | All Ages |
| Expert (Cat 1) ♀ | 1:06 pm | 19 mi | Top 5 overall | Cash | All Ages |
| Open | 1:02 pm | 23.5 mi | Top 3 overall | Cash | All Ages |
| Comp | 1:04 pm | 19 mi | Top 3 overall | Cash | All Ages |

The riders meeting will be held at the starting line 10 minutes before each race start.
* Kids race is just for fun and not part of the race series. Scoring will not be recorded.
Lap mileage is approximate and subject to change based on course conditions.
This race is part of the
Illinois Homegrown Race Series
and the
Iowa Mountain Bike Championship Series
.
http://www.qcforc.org/events/races/s.../usac_logo.jpg
The Illiniwek Abermination is a
USAC
sanctioned event. All
rules and regulations apply