Frozen Fat Fondo Fest [4xF]

Saturday January 27, 2018
Credit Island Park - Davenport, IA
Rain or Shine, Snow or Slime
<!- end title-container ->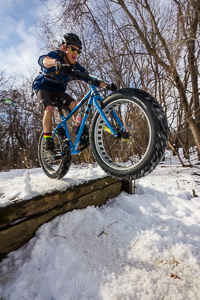 2015 solo mens winner threw down 9 laps in 3hrs.
Event Summary
Continue to make history and be a part of FORC's fourth iteration of the Frozen Fat Fondo Festival! The FFFFestival will be held -- rain, shine, snow, or slime -- on the beautiful shores of the Mississippi River at the recently rebuilt Credit Island Lodge. Riders will test their mettle on a circuit featuring many technical challenges (b-lines available for most) through thick lowland forest and chunky river shoreline on this 3 hour endurance ride. Participate as a 3-person relay team or solo.
Fatbikes with tires 3.5" or wider are required to prevent rutting up the snow pack! No, we won't make exceptions.
Please let there be a snow pack... Stick around after the main event for even more shenanigans and tomfoolery. All proceeds from this event benefit FORC to continue maintaining and improving local trails.
Registration
Each member of a 3 person relay must register separately, selecting the "Relay Rider" option.
Online registration (before Jan. 25th): $20
Day-of event registration: $25 (no registrations will be accepted after 10:15 am)
Online registration closes Thursday Jan. 25th @ 10 pm Central.
Packet pickup and day-of event registration is 9:00 am - 10:15 am. Arrive early.
Rain date is Saturday, January 27, 2018. Yep.
Fondo "shotgun" mass start is 11:00am.
Fondo participants are NOT required to purchase/possess a valid USA Cycling rider license. (see FAQ for further details)
Beverage donations accepted for post event shenanigans (see below).
<!- end fff-indent -->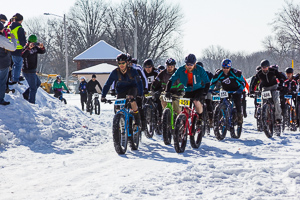 Brap.
FFFFestival Timeline
8:00 am - Ccourse pre-riding opens
9:00 am - 10:15 am - Packet Pickup and day-of event registration
10:45 am - Fondo Riders meeting (mandatory)
11:00 am - 2:00 pm - Fondo Fatbike Challenge
12:00 pm - Hot Chow sales begin
2:30 pm - Fondo Awards
3:00 pm - 6:00 pm - FFFFestival Shenanigans. Music, Food, Bonfire, Consumption.
6:01pm - ??? - Night stompin' (bring yo' lights). Consumption. Tall Tales. Short Lies.
<!- end fff-indent -->
Fondo Categories
Enter Solo or organize a 3 person team. Trophies for the Top Female, Top Male, and Top Team. Don't own a Fatbike? Buy, borrow, or rent one. Or be part of a team. Teams can share a bike and be co-ed. 3 person teams need to provide a Team Name and a list of members at packet pickup/check-in on the day of the event. Remember that each member of a 3 person team must register separately.
<!- end fff-indent ->
Fondo Format
Bikes with tires greater than 3.5" are required to keep a level field. The Fondo is a group "shotgun" mass start at 11:00 am; teams are allowed to have 1 member in the start lap. You or your team need to complete as many laps as able. Last-lap cutoff at the check-station is 1:30 pm (2.5hr mark). No team lap overloading (one team member doing laps at any given time, no double/tripling up).
<!- end fff-indent ->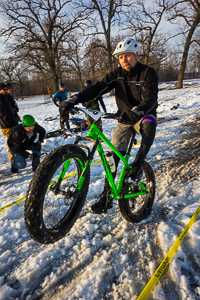 Stick around for the post race shenanigans.
Fondo Course
The Fondo course uses the features and terrain in which Fatbikes have an advantage. You will encounter several challenges that test your anti-whining mechanism. Everyone probably will hike-a-bike or walk a few features. Intentionally obstructing somebody passing you is lame. Passing someone? Don't expect a freebie; earn it.

No course maps will be available, but feel free to pre-ride the course after 8:00 am the morning of the event.

There is a 20 yard dismount lane by the lap count check station. Dismount prior to crossing the line, ensure your Bib number has been counted, and get on after the mount line. Those breaking the rules ride a penalty loop; no whining. Team relay exchanges must be conducted via a physical touch between team members. Or they get a penalty loop; no whining.
<!- end fff-indent ->
Enter the Shenanigans for the best prizes! See the Registration area for sign-up sheets. Also, don't forget to bring a sixer of your favorite beverage to share at the beer potluck!
3:00 pm - Fat & Slow Duel
3:30 pm - Wheelie Contest
4:00 pm - Skidmark Slalom
4:30 pm - Shenanigan Awards
4:30 pm - Consumption, Music, Food, Bonfire, Night Stompin' and more!
<!- end fff-indent ->
Where's My Money Going?
All proceeds from this event (entry fees & raffles) benefit FORC and will be used to purchase materials and tools needed to maintain and improve local singletrack trails.
<!- end fff-indent ->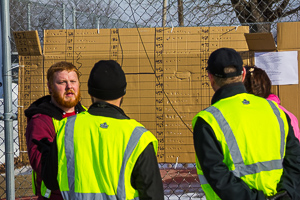 Volunteers make this shindig happen.
Want to Volunteer?
It takes a small army of people working behind the scenes to make sure this event runs smoothly. If you would like to help out, post up in the
Frozen Fat Fondo Fest 2018 thread
on the forums or email the race director. Volunteers need to check-in at the registration desk the day of the event.
<!- end fff-indent ->
Weather
This event will happen on Saturday Jan. 27th regardless of weather conditions. Fatbikes don't give a damn and neither should you!
<!- end fff-indent ->
Swag
Raffles and door prizes and more oh my!


<!- end fff-indent ->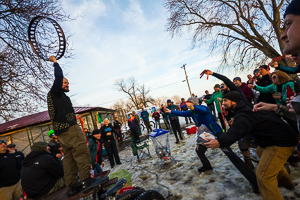 The raffles can get a little crazy.
Questions?
If you have any questions about this event you can:
<!- end fff-indent ->
What's a Fondo?
Fondo is short for "Gran Fondo" which is usually a challenging long distance race like event were individuals are timed. There are numerous cross country skiing, running, and road biking Gran Fondo events held throughout the US each year. An after party is also common. The 4xF is our attempt at pigeonholing this event format to fit fatbikes and off-road riding.
Do I need to buy the USAC 1 day or annual license to ride your Fondo?
No. A 1 day or annual license is not required to participate. Per USAC Chapter 10: "10A1. Gran Fondo events are timed events open to all riders." Riders that hold a valid USAC license will receive preferential staging at the start in accordance with USAC rules. Watch out and make sure you uncheck the optional 1-day license USAC automatically selects for you (sneaky sneaky) when you try to register through their website.
Can I use a wide tire mountain bike (plus bike) instead of a fat bike?
Nope, this event is for true fat bikes with 3.5" or greater width tires. In the event of snow, skinnier tires will rut up the snow pack on the course and make it less enjoyable for everyone else.
Will it be cold?
Maybe? It's hard to say since the last three 4xFs went down during 40F temps and turned into a mud fest. Hopefully this year will stay frozen and live up to the name. We also moved the date a few weeks earlier this year for this reason.
<!- end fff-indent ->
<!- end fff-container->