Double X FORC Fest | August 4th - 6th (Fri-Sun) 2017 | Scott County Park - Park View, IA
---
What it's all about
FORC was founded in 1997 and has been busy building & maintaining MTB trails across the QC area ever since. Today we enjoy over 30 miles of local singletrack with more miles being added each year. The Double X FORC Fest is a chance to celebrate local trails, volunteers, and the community that made it all possible.
Registration
Online registration has not yet opened. XX FORC Fest entry fee is $20 and includes some kickass swag: stickers, bottle opener, coozies, and 20th anniversary FORC logo t-shirts. Online registrants will have the option of selecting the T-shirt for an additional $5.
Preregister by July 26th to reserve your shirt!
Join the fun at the XX FORC Fest registration page
Free admission for those 12 and under.
Events
The three day celebration will feature organized group rides, night rides, away rides to other QC trail systems,
bike skill clinics (MTB-101 & 201)
, Saturday night cookout, not lame bike games (longest skid, bike polo, dodge tire, and more), live bluegrass music courtesy
Frankie Joe and Kinfolk
, plus a few more things. Participate in as many as you want, spectate, or do you're own thing. The only rule is to enjoy yourself.
Full Fest Schedule Here
Event Highlights:
Friday
Fest Fire Up Party - 5-8pm
20yrs of FORC: The Movie- 7pm
Night Ride - 8-10pm
Saturday
Lion's Club Breakfast - 7-10am
Away Rides - 10am-4pm
Not Lame Games & Happy Hour - 3-6pm
Cookout - 6-9pm
Live Music - Frankie Joe & the Kinfolk - 6-9pm
Night Ride - 8-11pm
Sunday
Breakfast Pizza - 8-11am
Away Rides - 8am-2pm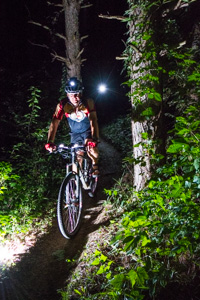 Night rides at SCP!
Camping
Scott County Park has both modern and primitive camp sites. A block of sites will be reserved for festers in the Sac-Fox campground. All fest campers must register for their own camping at the main park entrance station. Tell them you're with the mountain bike fest and they'll point you in the right direction.
SCP camping fees are listed here.
Directions
Scott County Park is located in Park View, IA about 10 miles north of the metro Quad Cities via US-61.
Swag
If you are a local business and would like to donate door prizes or swag
get in touch.
FORC will also have merchandise on site for purchase. Festers will receive various 20th anniversary FORC gear with their registration (coozies, stickers, bottle openers, t-shirt). The fest t-shirt will be available to preorder until July 26th and comes in men's ringspun cotton or women's v-neck cotton styles.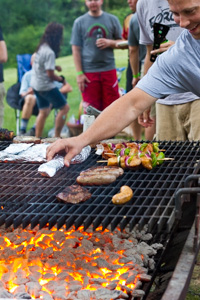 Bring something to grill for the Saturday evening cookout.
Food
Bring something to throw on the grill and a side for Saturday's cookout. There may be a food vendor on site for lunch Saturday and Sunday morning breakfast will be provided by us. Bring food for yourself for the rest of the fest or check out local restaurants.
Questions
If you have any questions feel free to contact us through the following channels:
Volunteers
We're looking for a few volunteers to help with event/ride leaders, registration, merch, setup, & cleanup. If you would like to help out, post up in the
FORC Fest - Call for Volunteers
thread on the forums or stop by the day of the event to sign up.
---