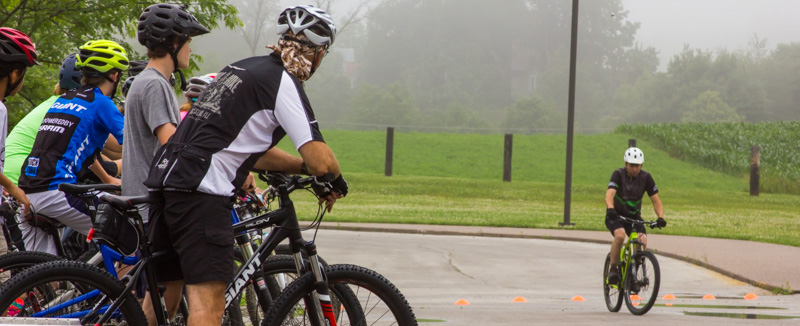 Saturday April 16th 2016 - 11:00 am to 1:00 pm
Illinwek Forest Preserve - Hampton, IL
What is MTB-101?
Mountain biking 101 is an introductory skills clinic that will cover topics to get you riding and enjoying off-road trails. Skills covered will include: braking, bike/body position, cornering, how to navigate common obstacles found on trails, and basic bike maintenance/repair. We also encourage those who recently started riding trails to participate. You may pick up some new skills or even find help mastering an old one.
After the instructional portion of the clinic, we will head to the trails on a group ride to put your newly learned skills into practice.
This event is free to the public (all ages welcome) and will be taught by certified/trained mountain bike instructors.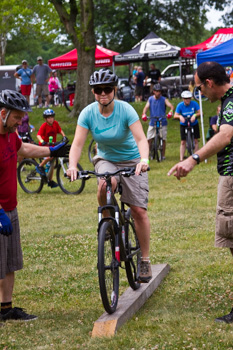 Requirements
You supply the bike.
Make sure your bike is in proper working order (see below)
Participants must bring/wear a helmet.
Bring the gear you would take with you on a ride (water, multitool, extra tube, & tire pump)
Before You Come
Make sure your bike is in good working condition. Run through this quick list of things to check:
Tire Pressure. 30-35 psi is good start for MTB. Don't inflate the tires to the pressure listed on the tire sidewall; that is the max inflation pressure and is too high for trail riding. Too much air will cause the bike to be uncomfortable, bounce over roots and bumps, and be harder to control. Too little can cause cause pinch flats, bent rims, and unexpected loss of traction.
Lube Chain Lube the chain to reduce annoying noise and add longevity to the drivetrain. Don't use WD40 (not an actual lubricant). Get a chain lube from the bike store that is formulated specifically for bikes. Apply it liberally to a clean chain and wipe off the excess to avoid attracting more dirt.
Adjust Brake Levers/Gear Shifters Having the brakes and gear shifters in the correct position is essential for safe and efficient riding. Check out this video on how to properly set up brake lever and gear shifter position.
Adjust Seat Height/Position Seat height is extremely important for riding comfort and bike control. Check out this video to see how to properly set up your seat.
We will cover some of these topics during the class, but probably won't have time to make adjustments to everyone's bikes at that time.
Location
This event will be held at Illiniwek Forest Preserve in Hampton, IL. Meet in the parking lot to the southwest of the ball diamonds (see map below for location).
Questions
If you have any questions regarding this event, feel free to ask in the
MTB-101 Forum Thread
or
shoot us an email