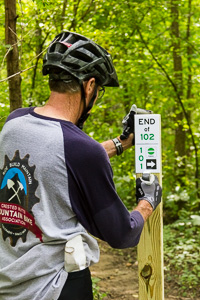 New semi-permanent signage being installed at WBP.
Things are moving along at Westbrook Park. FORC has partnered with the City of Dewitt to design, build, and maintain a system of singletrack trail at the park for use by mountain bikes as well as hikers and other foot traffic.

Three loops are now signed and open for riding which brings the total amount of singletrack trail built so far to 2.3 miles. However, we still need your help! Keep an eye on the Westbrook Park sub forum and the FORC Facebook page for announcements of upcoming trail work days. Also, a big thank you to all the volunteers who have already put their sweat into the trail system!
Want to know more about Westbrook? Check out the Westbrook Park trail page. Here you can find trail related information and trail building updates.