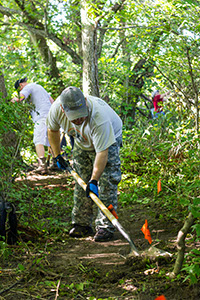 FORC volunteers building trail at Westbrook Park.
Upcoming Trailwork: The DeWitt trail crew will be working on completing the third loop at Westbrook Park on Saturday 8/9 @ 9AM. Only a few hundred feet remain until this trail is ready to ride!

Never built trail before? We can teach you. Don't have the tools? We will have a number of tools available to choose from. Come out and see how those trails you love come to be.

Food will be provided after the workday for the volunteers. Bring your own beverages. Also, bring your bikes for a celebratory ride to kick off the new trail!
Things are chugging along at Westbrook Park in Dewitt. FORC has partnered with the City of Dewitt to design, build, and maintain a system of singletrack trail at the park for use by mountain bikes as well as hikers and other foot traffic.

Two loops have now been completed yielding around 2 miles of trail . However, we still need your help! Keep an eye on the Westbrook Park sub forum and the FORC Facebook page for announcements of upcoming trail work days.
Want to know more about Westbrook? Check out the Westbrook Park trail page. Here you can find trail related information and trail building updates.