The 206 trail weaves through branches of a large fallen tree.
Trail System Description
After nearly two years of hard work and close to 1000 volunteer hours logged, six loops of new singletrack trail at Westbrook Park have been constructed. Two more loops are in the works but may not be completed until 2017. Riding all current trails will add up to a 5 mile lap. These trails were designed with sustainability and user experience in mind meaning lots of curves, gentle grades, good flow, and easy wayfinding.

Temporary signage has been installed marking each loop and its difficulty rating until more permanent signage can be put in place. Trail blazes engraved with the trail number and difficulty rating can be found along the loops and were manufactured/donated by Custom-Pak in DeWitt. See the trail map for suggested riding direction (counterclockwise).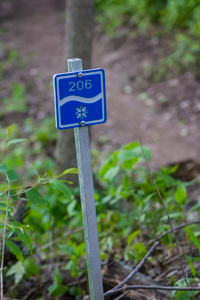 The trails are marked frequently with blazes. Donated by Custom-Pak in DeWitt
The Trails
101 - Beginner -
The 101 loop is 1.3 miles in length, generally traverses the south and east perimeter of the park, and is the main gateway to all other trail loops.. There is a short climb 0.3 mi after crossing the Silver Creek bridge (going in a CCW direction) but minimal elevation gain through the rest of the loop. There are plenty of areas routed through tight woodlands featuring gentle sweeping turns.
102 - Beginner -
The 102 loop is 0.7 miles in length and begins by following the eastern boundary of the park before turning back along the the slopes of Silver Creek. Along the creek riders will encounter a short descent and climb, flowy turns, and gently rolling terrain.
201 - Intermediate -
The 201 loop snakes through the southwestern corner of the park and begins with a gentle climb to the top of a plateau. Once on top, the trail winds its way through open woodlands with minimal elevation change, transitions to a short turn packed descent, through a temporary stream crossing, and finishes along the banks of an undulating watershed. This trail is around 0.5 miles in length.
202 - Intermediate -
The 202 loop starts as a short climb to the top of a small bluff that overlooks the lowlands surrounding Silver Creek. Next comes a short zig-zagging descent down a gentle watershead towards a small feeder creek and follows it upstream to the south. Moderate rolling terrain with sweeping corners eventually get you back up to the top of the hill and reconnect with 101. This trail adds another 0.6 miles to the system.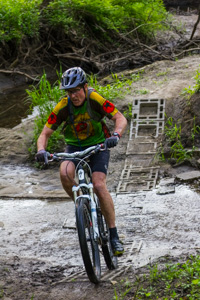 Stream crossing on the 206 trail.
Read More