The green trail passes through a deep ravine with large Glulam bridge.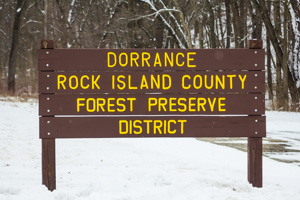 Want to get Involved?
There will be plenty of opportunities for volunteer help on this project and the more help we get the faster the new trails will be ready for use.
Click here to view the latest trail work day announcements.
Click here to subscribe to the Dorrance forum
(
forum account required
) to receive email updates about upcoming work days and the latest project developments.
Summary
Dorrance Forest Preserve is located right in the middle of Port Byron, IL making it a prime choice for recreation and specifically trails. This 80 acre park features moderate to steep terrain and is covered by large hardwood trees typical of the Mississippi River valley. The park is located just a short ride from downtown Port Byron making it a convenient recreation destination for locals or those just visiting.
Trail Map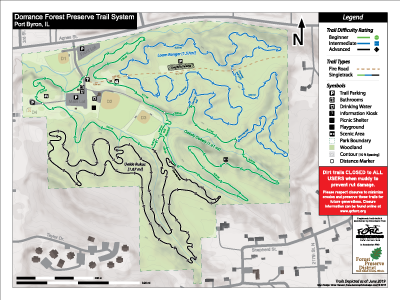 Click to enlarge
Planned Trails
Three main loops of trail will be constructed at Dorrance. A green beginner loop, blue intermediate loop, and black advanced skills loop. Each trail will be around 1 mile in length with approx. 4 miles of trail in total when finished.
Trail Descriptions
Green Loop - "Oakely Dokely" (Beginner ) A 1.6 mile loop tracing the interior of the park. A wider trail surface and low gradients makes this a good fit for beginner riders. The loop features a couple moderate climbs and one long descent. Enter/exit near the kiosk along the entrance road.
Blue Loop - "Loam Ranger" (Intermediate ) A 1.5 mile loop with numerous rollers, rock features, optional drops, and a few short climbs.

One way only trail! (CW)

Black Loop (Advanced ) Coming soon...
Trail Information
FORC is working with RICFPD to develop new trails at Dorrance. The 1.6 mile green/beginner loop was completed in spring 2017 with two more loops coming soon. Two thirds of the blue/intermediate loop has been completed adding another mile of trail to the mix. Total singletrack trail mileage when completed is expected to be around 4 miles. Trail format is a stacked loop system, ...